When Does it Make Sense to Lease?

The world of car financing can be tricky to navigate, and while buying a car may be popular, it's not the best option for every driver. So, when does it make sense to lease instead of buying? Leasing is perfect for times when you need the flexibility of a shorter time commitment. Rather than committing to a contract that could last years and years, a lease typically covers a three-year span of time. Here are a few scenarios where leasing might be the better choice:
Business Vehicles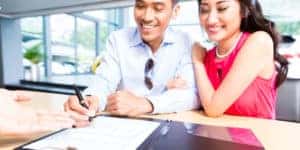 If you're starting a business and you need a vehicle, leasing is the way to go. Between leasing vs. buying, leasing is far easier to manage from an accounting perspective. You can deduct the lease payment amount directly, instead of juggling the calculations between the monthly payment and interest fees and depreciation. And speaking of depreciation, buying a new car always has the risk of steep depreciation. Leasing is a different type of arrangement, which means there is no depreciation recapture – so you avoid that tax liability completely.
Luxury Cars
Do you dream of driving a luxury car down the roads of Gurnee and Grayslake? You're not alone! The demand for luxury vehicles is high, and the prices can be even higher. But when you lease a car, you can often get a much better deal. That's because luxury cars have a higher residual value, so the dealership doesn't have to worry about losing tons of money on a brand new car. That means a sweeter deal for you! Additionally, you can keep trying out the latest and greatest models when your contract runs out. It's a win-win situation.
Temporary Use
Sometimes you find yourself in a new home for just a short period of time. Whether you're relocating for work or school, buying a car in a brand new location isn't always worth the time and effort. A car lease is a perfect solution for those situations. You can lease a vehicle for the few years that you need it, and then return it to the dealership at the end of your term. No need to stress over reselling a car that you've only owned for a few years.
Find Your Next Car at Libertyville Chevrolet, Inc.
Located near Waukegan, Libertyville Chevrolet, Inc. has the stellar inventory that you want and the terrific customer service that you need. Contact us today to set up a test drive!
More From Libertyville Chevrolet, Inc.
Yes, you can! While it may be a little trickier, it's not impossible. Learn more about no-credit car loans and how you can finance a car with bad credit with the Libertyville Chevrolet, Inc. finance department. Get Financing Contact Us Financing with Bad or No Credit If you're looking to finance a car with no credit, there…

The alternator sends power to the vehicle's electrical system while the car is running. The battery will start the car, but it doesn't power it. The alternator functions as a generator, and it uses the gas engine as its energy source. For additional information about the alternator, visit the service center at Libertyville Chevrolet, Inc.. Schedule Service…

The 2019 Chevrolet Cruze can't help but make waves wherever it goes! Top technology features are spread out evenly across its five available trim levels, and with sedan and hatchback body styles available, this compact car has something for everyone. On top of all this, the Chevy Cruze safety features leave almost nothing to be…