What Does an Alternator Do?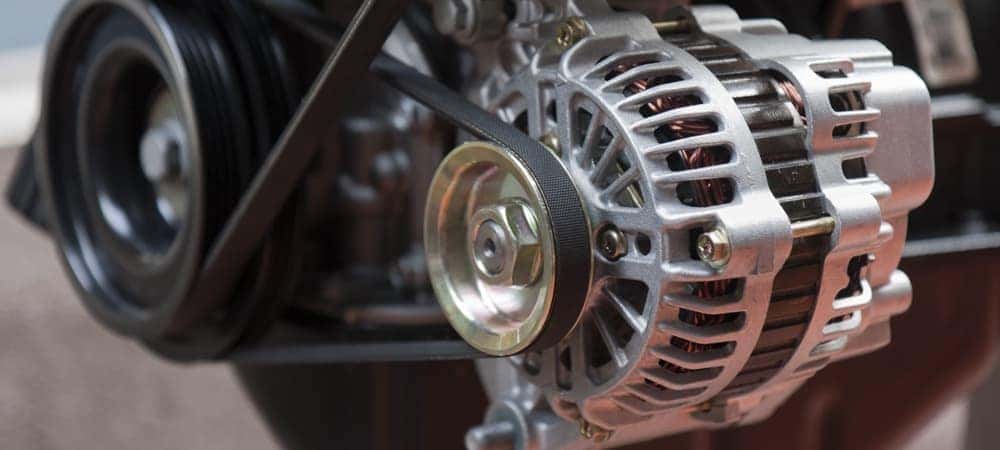 The alternator sends power to the vehicle's electrical system while the car is running. The battery will start the car, but it doesn't power it. The alternator functions as a generator, and it uses the gas engine as its energy source. For additional information about the alternator, visit the service center at Libertyville Chevrolet, Inc..
Common Alternator Issues
Are you concerned that you have a faulty alternator? If you are noticing any of these items, visit Libertyville Chevrolet, Inc. near Waukegan:
Battery warning light appearing on the dashboard
Burning rubber smell under the hood
Devices not charging
Dim headlights or interior lights
Unable to start
Whining or screeching sound after the vehicle has started
Failing Alternator vs. Battery
Many drivers mistake alternator failure with a failing a battery. If you're looking to see which one is causing the issue, wait until the vehicle doesn't start and a jump is needed. Jumpstart the engine, then remove the jumper cables. If the vehicle immediately dies, the problem is most likely the alternator. To have a certified technician inspect your vehicle, schedule a service appointment at Libertyville Chevrolet, Inc. near Gurnee.
How Long Does an Alternator Last?
Alternators typically last between 80,000 and 150,000 miles, or about 7 years. There are instances that cause the alternator to wear out earlier:
Power drain on the alternator
Alternator quality
Driving conditions
How Much is an Alternator?
Since each car requires a different alternator, it's difficult to say what you're going to spend on an alternator. However, you can give Libertyville Chevrolet, Inc. a call for a free quote at 847-932-3002. We offer alternators that were designed specifically for your car. In addition to that, our mechanics have the training and experience needed to correctly install it.
Visit Libertyville Chevrolet, Inc. for a New Alternator
If you're looking to replace the alternator yourself, check with the parts department at Libertyville Chevrolet, Inc.. We'll locate the correct alternator at the best possible price. Contact us with any questions or visit our service center near Grayslake!
More Service Tips From Libertyville Chevrolet, Inc.
The alternator sends power to the vehicle's electrical system while the car is running. The battery will start the car, but it doesn't power it. The alternator functions as a generator, and it uses the gas engine as its energy source. For additional information about the alternator, visit the service center at Libertyville Chevrolet, Inc.. Schedule Service…

Whether you drive a new Chevrolet vehicle or a used car, truck, or SUV, it's important to keep up with routine maintenance. If you're late on regular car service or you experience signs that there's an issue, it's time to contact your local Libertyville service center. Schedule Service Video Transcription In the event that something…

When winter arrives, staying safe on the Gurnee roads is key. Keeping your vehicle in top shape when the cold and snow hits comes with its challenges, but a few winter driving tips from Libertyville Chevrolet, Inc. help not only with travelling in harsh weather, but also with the longevity of your car, truck, or SUV. Get…